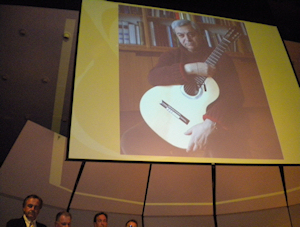 Nell'edizione 2009 della GFA Convention, la Guitar Foundation of America (GFA) ha attribuito al compositore Vercellese Angelo Gilardino il prestigioso premio 'Hall of Fame' per la carriera di compositore.
Il convegno si è svolto a Ithaca (New York) dal 16 al 21 Giugno 2009. La consegna del premio è avvenuta  la sera del 21 GIugno 2009.
La comunicazione ufficiale è disponibile in formato PDF.
Il reportage a cura del magazine di chitarra Seicorde è disponibile in formato PDF.