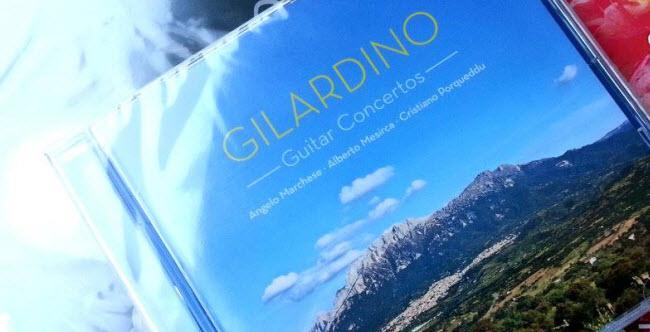 Oggi 1 Gennaio 2014 la major olandese Brilliant Classics inizia la distribuzione del nuovo CD dedicato al repertorio per chitarra "Angelo Gilardino 3 Concertos for Guitar and Orchestra".
Gilardino: 3 Concertos for Guitar and Chamber Orchestra
COMPOSER Angelo Gilardino (b. 1941)
FORMAT 1 CD Jewelcase
CAT. NUMBER 94747
EAN CODE 5028421947471
CONDUCTOR Giampaolo Maria Bisanti
CONDUCTOR Luciano Condina
GUITAR Angelo Marchese
GUITAR Alberto Mesirca
GUITAR Cristiano Porqueddu
ENSEMBLE GliArchiEnsemble
ORCHESTRA Orchestra del Teatro Olimpico
ORCHESTRA Synfonica-Orchestre de Chambre de la Vallée d'Aoste
ORCHESTRA Winds of the Orchestra da Camera Siciliana
About this release
Angelo Gilardino's compositions are all inspired by literary creations or paintings, although there is nothing deliberately programmatic about these works, which seek rather to convey in broad-brush strokes the associated atmospheres or connotations of their titles. Here's a chance to devour three such pieces by this leading contemporary composer, beginning with Hykkara — whose prevailing atmosphere is that of a distant past (the title refers to an ancient city of Sicily, then known as Magna Graecia). The concerto's orchestration — which for Gilardino is always an integral part of the aesthetics of the music — establishes the fate of the solo instrument, whereas in the ensuing work, Concertino del falco, it is the solo guitar that leads the poetic discourse, evoking dark, troubled images. Falco was composed in memory of the German writer Ernst Wiechert, who was imprisoned by the Nazis and whose experiences led him to seek a return to pure nature and salvation in God. The freedom of the falcon can be seen as an attempt at getting closer to the divine, away from troubled humankind, and the wind play a particularly important role in this work, creating a mélange of constantly changing colours that recall an earlier age by way of a mysterious, poetic dream world.
The Concerto di Oliena completes the line-up, a work in which Gilardino focuses on the characteristic sense of distance evoked by this Sardinian village, favouring the development of parallel timbres in the orchestra over compactness and density of sound. The piece was dedicated by the composer to its performer, Cristian Porqueddu, who is joined by two other leading Italian guitarists on this recording: Angelo Marchese, for whom Hykkara was written, and Alberto Mesirca. Transporting the listener on a journey back through time, this enchanting release — a veritable study in musical poeticisation — is a worthwhile addition to Brilliant Classics' guitar discography.
Other information:
– Recorded 2012–2013.
– The earlier issues on Brilliant Classics of works by Gilardino have shown a highly individual composer whose musical roots are planted around the Mediterranian, breathing its perfumes, colours, rhythms and harmonies.
– This new recording presents Gilardino's guitar concertos, evocative and atmospheric music, in which the guitar is in constant dialogue with instruments of the orchestra, as skilfully written as only a guitarist himself can write.
– Played by three outstanding guitarists: Angelo Marchese, Alberto Mesirca and Cristiano Porqueddu, three virtuoso and sensitive musicians, who already won their spurs with their earlier recordings for Brilliant Classics.
– Contains detailed notes on each of the concertos and biographies for each of the guitar soloists.
Tracklist:
Concertino di Hykkara (2012)
1 I. Allegro solare 8'21
2 II. Adagio 7'03
3 III. Un poco mosso 6'46
Angelo Marchese guitar
Winds of the Orchestra da Camera Siciliana – GliArchiEnsemble
Giuseppe Crapisi conductor
Concertino del falco (2011) In memory of Ernst Wiechert
4 I. Allegretto 8'20
5 II. Adagio 7'59
6 III. Allegro con fuoco 5'14
Alberto Mesirca guitar
Orchestra del Teatro Olimpico
Giampaolo Maria Bisanti conductor
Concerto di Oliena (2007)
7 I. Andante lento — Allegretto 12'18
8 II. Adagio 6'51
9 III. Allegro scherzoso 8'15
Cristiano Porqueddu, guitar
Synfonica-Orchestre de Chambre de la Vallée d'Aoste
Luciano Condina, conductor
Total time 71'54