La casa discografica Brilliant Classics pubblica un nuovo CD dedicato alla musica per chitarra sola di Angelo Gilardino.
Si tratta di Guitar Music Inspired by Spain e l'interprete è il chitarrista italiano Antonio Rugolo.
La tracklist include le seguenti opere: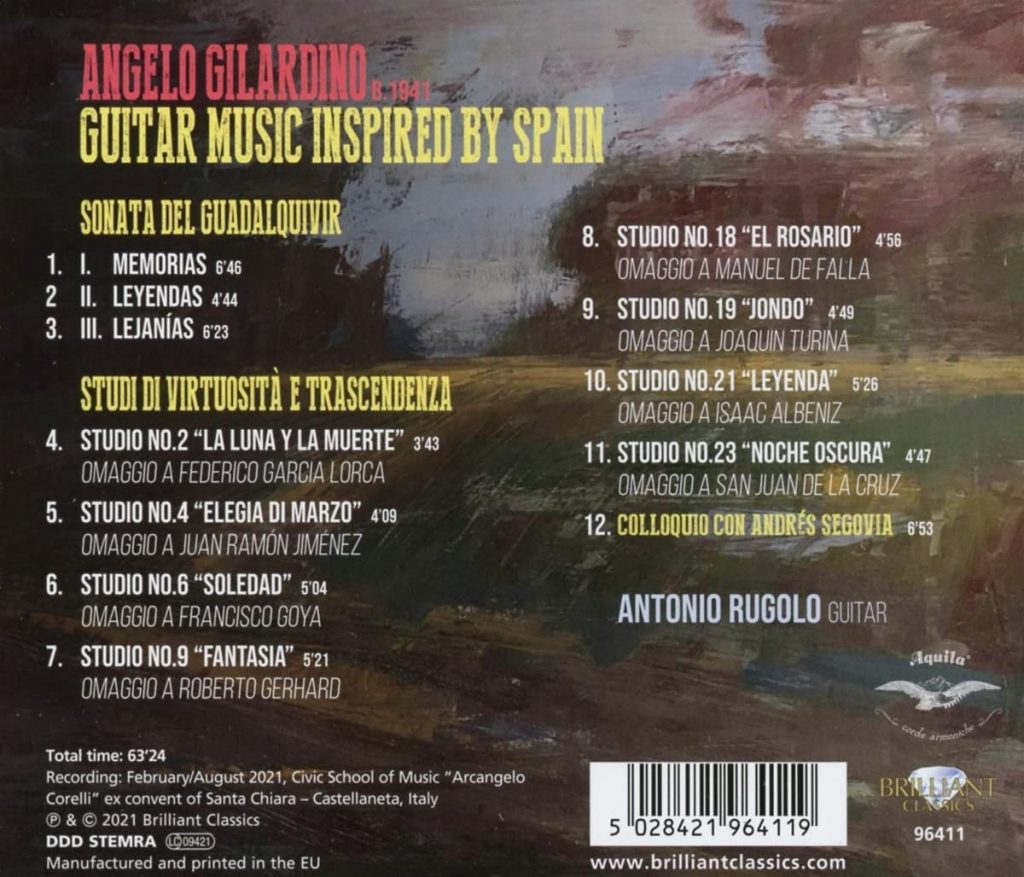 Acquisto su Amazon da questo link.
Dal sito dell'editore:
In this the year he turns 80, Gilardino has amassed a vast and varied oeuvre, has received numerous prestigious awards and is performed regularly by musicians of the highest calibre, like the excellent guitarist on this recording, who plays his music all over the world. The pieces assembled on this recording highlight a particular aspect of Angelo Gilardino's poetic spirit: his combining of the popular and the mystical, built predominantly around modal and diatonic writing, which allows all listeners to rediscover places of love and of suffering. With its roots in Hispanic and Mediterranean culture, the music showcases better than any other the depth embedded in the guitar's sound: dark yet crystal clear, as piercing and fleeting as humanity's most authentic experiences of love on Earth.
SONATA DEL GUADALQUIVIR
This work, written in 2004, is inspired by the myths of early Spain, buried deep in the mists of time. Drawing on the work of the country's leading nationalist composers, it is evocative rather than assertive, creating a feeling of distance that goes beyond any historical references, dates or fashions.
COLLOQUIO CON ANDRÉS SEGOVIA
In 2001, during the moving of Segovia's remains from the city cemetery to the crypt of a museum dedicated to the great guitarist, Frédéric Zigante asked Gilardino to write a piece in Segovia's memory evoking his main stylistic preferences. The composer completed the work a year later. The composition has an ABA structure, but conceals iterations, metamorphoses and rich transpositions, like a confidential and profound dialogue in which the interlocutors share the story of a never- ending closeness between two sensitivities, both strongly felt in the world yet at the same time foreign to one another. The composer draws on the ancient Italian style loved by both musicians, from Ludovico Roncalli to Mario Castelnuovo-Tedesco via Domenico Scarlatti, but presents it in a different way.