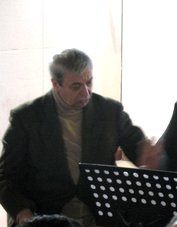 Dal 2004, Angelo Gilardino si è ritirato dall'insegnamento ufficiale nei Conservatori di stato e nelle Accademie private. La sua attività didattica si svolge ora unicamente nell'ambito del corso internazionale di perfezionamento istituito dalla Città di Vercelli. Riservato a un numero chiuso otto di studenti, il corso ha luogo ogni anno scolastico, da Ottobre a Maggio. Dal 2012, il corso ammette anche due studenti in sovrannumero (in prova).
Argomenti trattati:
Analisi estetica, storica e interpretativa dei brani proposti e, facoltativamente. elementi di composizione chitarristica

Tecnica strumentale e interpretazione
Obiettivi e programmi
Il corso ha la finalità di rendere accessibile, in un contesto logistico e organizzativo adeguato, l'insegnamento del Maestro vercellese che, con la sua ricerca in campo didattico-musicale, strumentale, estetico e compositivo, ha segnato l'arte chitarristica con un'impronta considerata di valore storico

Individuazione di un repertorio personalizzato e preparazione di programmi da concerto sotto la diretta guida del noto didatta 
§ §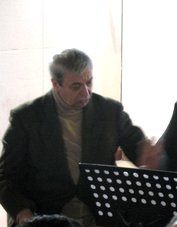 On 2004, Angelo Gilardino retired from official teaching in State Conservatories and Academies. Since then, he teaches only in the international course for advanced players created by the City of Vercelli and restrained to a number of  eight students. Such a course takes place each schoolyear from October to May.
Subjects of course:
Aesthetical, historical and musical analysis and fundaments of composition.
Instrumental technique and interpretation
Objectives and programs
The course aims to make available, in a proper organizational frame, the teaching of the Master whose work marked the art of the classical guitar.